Embodying South Australia's appreciation of the arts and cultural landscape, the new Festival Plaza public realm is one of Adelaide's largest public redevelopment projects to be undertaken in recent times.
The space, which now features a combination of dynamic entertainment and social areas, has been upgraded to regenerate the city centre and to revitalise and connect formerly disparate parts of Adelaide's major events and entertainment precinct, including Adelaide Oval, the railway station, Sky City Casino and the Festival Centre.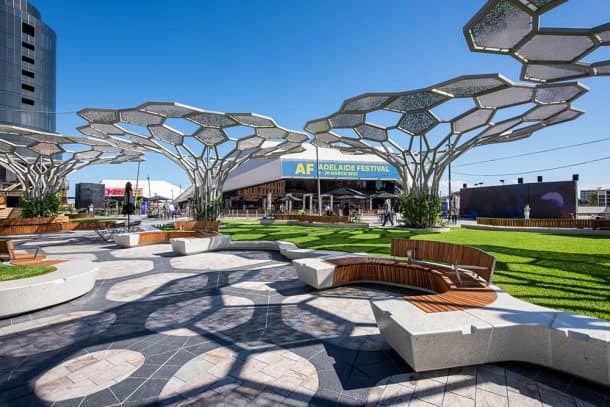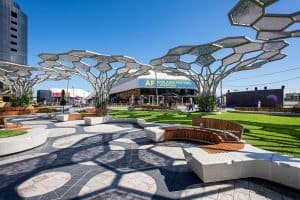 Designed by Taylor Cullity Lethlean (TCL), ARM Architecture and ASPECT Studios, the biggest stage of the public realm has now been completed and opened in March 2022. It incorporates 8,000sqm of reinvigorated public space and has been designed to attract and accommodate a larger number of guests, both locally and internationally. Further stages of the Festival Plaza public realm upgrade will provide an additional 7,900sqm of renewed open space, totalling 16,500sqm.[1]
At approximately two hectares in size the stunning Plaza is the centrepiece of a wider regeneration. It includes a 20-metre-long interactive water feature, six 11-metre-wide arbours and, completing the space as a destination for recreation and relaxation, statement curved seating and shelters are set within raised landscaped surroundings alongside an intricate pattern of stone paving.
Supporting this significant stage of the upgrade, leading Australian timber and building supplier Big River Group has delivered a range of quality formwork materials, including its premium bendable formply, ArmourForm overlay 1 side. The 5mm and 9mm ArmourForm, which comes in 2400x1200mm sheets, is ideal for curved formwork applications and was instrumental in enabling the unique design character of the space.
"Our bendable formply was key in helping to deliver the contractor, Outside Ideas', vision of the featured curved structures and seating in the Festival Plaza precinct," says Brian Relph, National Formwork Manager, Big River Group. "Our 5mm ArmourForm has so much flexibility which helped to overcome some of the challenges that presented without too much labour."
Well known for its customer service, smooth ordering and delivery solutions, industry innovator Big River Group worked closely with Outside Ideas to provide code compliant solutions with a focus on performance, that have improved efficiencies throughout the project.
"To be part of one of the best looking landscaped and multifunctional facilities in the Adelaide CBD is second to none, also the fact that we could help with final outcomes of some of the more difficult structures was very rewarding," says Brian.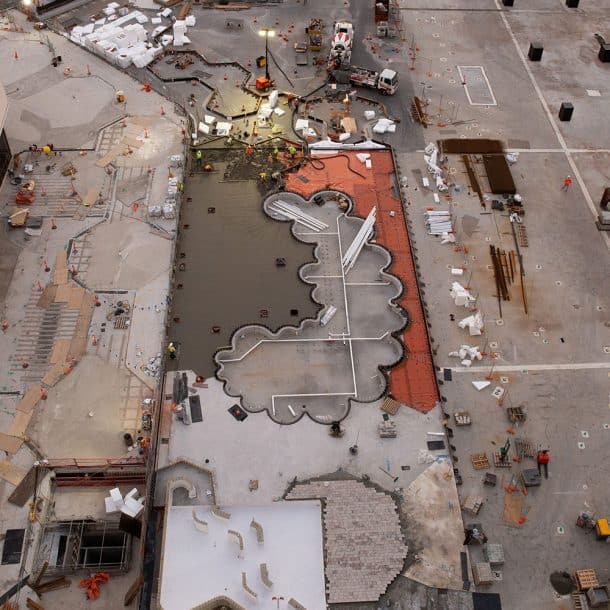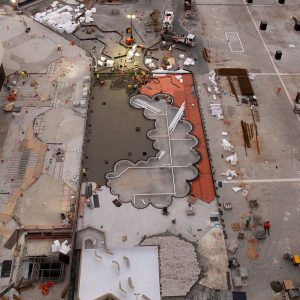 Additionally Big River supplied Formwork LVL which is suited for heavy load construction and concrete structural applications. It is available in three sizes, edge sealed for protection with lengths colour coded for convenience. Big River Formwork LVL represents a substantial improvement over conventional timber and is an easier to use, more convenient alternative to other materials.
Part of the Big River formwork solution was the use of Deckply F17 which is a high-quality plywood panel developed and engineered predominantly from graded eucalyptus veneers to the Australian Formwork plywood standard AS6669 as well as to the Australian and New Zealand standard AS/NZS2269-Structural Plywood.
The Festival Plaza public realm upgrade is a key component of the larger Festival Plaza redevelopment, undertaken by the State Government in partnership with SkyCity Adelaide and Walker Corporation. The project represents $1 billion in public and private investment, including $213 from the State Government.[2] The Adelaide Festival Plaza redevelopment, which also includes a new 27-level office tower, Festival Tower and a five level, 1646 space underground car park which opened to the public in May 2022, began in 2016 and is due to be completed in full in 2025.
For more information visit: www.bigrivergroup.com.au
[1], [2] https://renewalsa.sa.gov.au/projects/festival-plaza/