The safety of workers across Australia's construction, hospitality and healthcare sectors is set to improve significantly with the arrival of timber specialist Big River's Anti-Slip Plywood, a new plywood product featuring a highly slip resistant coating designed to protect against injury on both indoor and outdoor workplace platforms, ramps, walkways and floors.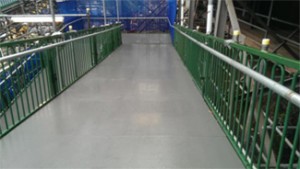 This innovative Australian-made solution was created to significantly improve the safety of both temporary and permanent flooring and ramps. It features a textured paint finish with crushed glass for maximum wear and slip resistance. The reverse side of the panel has a phenolic film for moisture protection in damp, wet and external areas.
Big River's Anti-Slip Plywood has been tested for slip resistance in both wet and dry scenarios. The wet test results should always be used to assess the real risk of slip. Both wet and dry testing delivered results at the highest slip resistance classification.
It has been specifically designed for use in construction sites or building areas, permanent ramps and flooring in hospitality (kitchen) or age care facilities, hospitals and medical environments.
According to a report released by Safe Work Australia the economic cost of work related injury and illness in Australia is estimated to be costing AUD $60 billion a year in lost productivity or just under 5% of Gross Domestic Production (GDP). Both small and big businesses across these sectors are proactively looking at new and groundbreaking ways to reduce injuries and make the workplace a safer environment.
In the construction industry, Lend Lease, one of the world's leading project management and construction companies is using Big River's Anti-Slip Plywood on the AUD$6 Billion Barangaroo urban transformation project on the western edge of the Sydney CBD.
In the hospitality sector, namely kitchens and food preparation facilities, slips are the most common cause of injury and also the easiest to prevent according to WorkSafe Victoria. In the café and restaurant industry, floors with oil or water spills are the greatest cause of slip, trip and fall injuries. Anti-Slip Plywood is ideal for high-risk areas including cool rooms/freezers, dishwashing areas, cooking areas and doors leading to and from the kitchen where changes in floor surfaces occur.
The product is also making a significant difference in the healthcare sector where Perth based manufacturer of safety products, Grafton General Products, has seen an enthusiastic uptake by their clients for both commercial and domestic applications. Grafton General Products supplies wheelchair ramps and various home modification products to hospitals, the Department of Housing and the Department of Veteran Affairs, all where safety is paramount. Joe Galipo, Director, Grafton General Products says, "We are delighted to be one of the first to embrace this brand new product from Big River, it is far superior to anything else on the market, and we are not seeing any slippage even in wet conditions.
For more information on Big River or to request high-res images or products to shoot, please contact
Hayley Maynard from Niche Marketing Group hayley@nichegrup.com.au or (02) 8585 4306
Until now many sites that required anti slip surfaces in the work place have been relying on plywood materials that are only stress graded to F11 and F14, or paint coating finishes that offer non-slip properties when applied to walkways and floors. The lifespan of many paint applications can be limited before a reapplication process needs to occur that can potentially increase maintenance costs.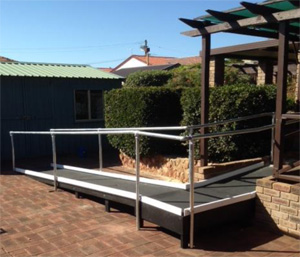 Manufactured locally in Grafton, New South Wales Anti-Slip Plywood has a high strength F17 structural plywood certification to Australian Standard AS2269 together with the maximum rating of P5 (V) classification in the slip resistance testing of pedestrian surfaces in wet conditions and D1 in dry conditions.
Anti-Slip Plywood is available in a range of sizes and thicknesses, as well as in custom-made size panels. It is available in three standard colours: safety yellow, black and grey. Based on volume, customised colours can also be specially created to compliment any décor and ensure that safety enhancements are seamlessly integrated into any unique interior environment. The product can also be scarf jointed if larger sheets are required.
Structural qualities of Anti-Slip Plywood include:
Textured paint finish with crushed glass for maximum wear and slip resistance
Phenolic film on reverse side for moisture protection in wet or damp areas.
High strength F17 structural plywood certified to AS2269
Achieves maximum rating of P5 (V) classification in slip resistance testing of pedestrian surfaces in wet conditions and D1 in dry conditions
Pressure cleanable.
Locally manufactured in Regional New South Wales
Colours and sizes can be customised depending on volume
Chain of Custody AFS/PEFC certified
With more than 100 years in the timber industry, the Big River Group is one of the largest private timber manufacturing and marketing businesses in Australia, servicing all states and many international projects.
Anti-Slip Plywood Fact Sheet
Big River Anti-Slip Plywood Specifications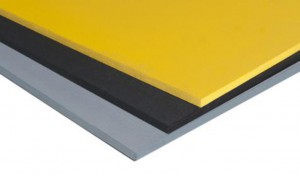 Sheet Sizes (mm)
1800 x 1200, 2400 x 1200, cut to size, can be scarf joined
Thickness (mm)
12, 17, 19, 21, >21
Stress Grade
F17
Anti-Slip Surface
Heavy duty textured coating incorporating ground glass
Phenolic Surface Density
45/130 (underside)
Tolerance
As per AS2269
Bond Standard
AS2754.1
Adhesive Types
(AS-2269) A-bond, (AS-2271) B-Bond
Formaldehyde Emissions
Super- Eo
Certification
Engineered Wood Products Association of Australia (EWPAA)
Chain of Custody Certified, AFS/PEFC certified (number 218)
Product Features
| Feature | A-bond | B-bond |
| --- | --- | --- |
| External use | Yes | No |
| Internal use | Yes | Yes |
| Phenolic film | Yes | Optional |
| Sealed edges | Yes | Yes |
| Strength rating | F17 | F17 |
| Thicknesses | All | All |
| Dry surface slip tested | Yes | Yes |
| Wet surface slip tested | Yes | Yes |
| Pressure cleanable | Yes | Yes (with sealed edges) |
| Green Star compliant | Yes | Yes |
| EWPAA certified | Yes | Yes |
Big River Anti-Slip Plywood: Slip Resistance Test Results
Product
Classification
Pendulum mean BPN
(4s rubber)
Risk of slip
Yellow
P5 (V)
55 BPN
Very low
Grey
P5 (V)
57 BPN
Very low
Black
P5 (V)
58 BPN
Very low
Slip Resistance Test: Standard Classification Table
| Classification | Pendulum mean BPN | Risk of slip (wet surface) |
| --- | --- | --- |
| P5 (V) | >54 | Very low |
| P4 (w) | 45-54 | Low |
| P3 (X) | 35-44 | Moderate |
| P2 (Y) | 25-34 | High |
| P1 (Z) | 12-24 | Very high |
| P0 (Z) | <12 | Very high |