With roots deeply entrenched in the local community, iconic pub The Rose, in Fitzroy, Victoria recently underwent a complete makeover, transforming it into a contemporary, stylish and welcoming space, whilst keeping with the country pub in the city ethos.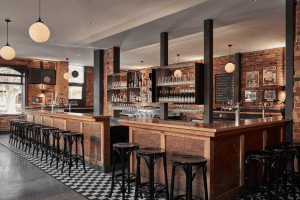 Working closely with the new owners to maintain The Rose heritage as a hub of sports and socialising – Melbourne based interior design firm, Harrison Interiors designed a stunning interior honouring the pub's proud and storied past. "The building's original features were maintained, with existing brick walls sandblasted and concrete floors polished, to showcase its rich character," explains Alisia Harrison of Harrison Interiors.
Complementing the industrial-style materials and original features, Big River Armourpanel was essential in the overall renovation. "A key driving factor to the design was the use of Big River Spotted Gum Armourpanel, along with Blackbutt timber to create warmth and a material link through both levels," says Alisia. "We used a combination of solid timber and plywood to create a contemporary take on a traditional public bar with the added detailing of routed patterns on inset plywood panels."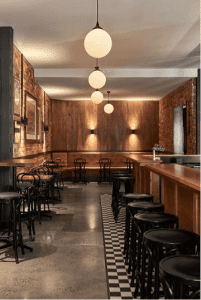 To create a more social and cohesive layout, the three rooms that originally made up the front bar have been joined together, providing one large, open-plan space. Central to the new layout is the striking main bar made with locally sourced blackbutt timber and Big River Armourpanel plywood, "the detailing and inset panels are a contemporary take on traditional public house bar styles," says Alisia.
Adding to the traditional industrial style of the design, Alisia describes how subtle patterns were used in the main bar to add dimension and character, "checkerboard tiling borders the bar, juxtaposed neatly against polished raw concrete flooring, and spotted fabric graces the upholstery," she explains. "The dining area at the rear of the space is finished with a tan banquette and a diamond-patterned routed plywood wall." This bold combination of brick, timber and steel with black highlights creates a warm, earthy and unpretentious interior, breathing new life into a popular, relaxed and modest watering hole.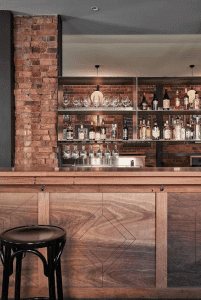 Continuing the stylish story upstairs, new restaurant Harry & Frankie benefits from the building's classic decorative detailing and arched windows, which inspired a pared-back palette of recycled timber, black steel and honed stone. "An Art Deco-inspired leadlight window welcomes visitors and subtly heralds the venue's modern reconfiguration. Geometric elements continuing the contemporary update are replicated throughout the space in custom joinery, lighting and bar cladding," says Alisia. "Rounding off the familial link is a hand-painted mural, reimagining the Port Melbourne venue's ceiling graphic by illustrators Craig & Karl."
A key factor in the design, Alisia says Big River Armourpanel dominated the overall style brief. "The timber species Spotted Gum and Blackbutt were significant accents that drove the overall project aesthetic," she explains. "These were key features in the projects' palette that pulled the overall concept and design together. Armourpanel is a unique product on the market due to the quality of manufacture, aesthetic appeal and robustness which are important qualities for a hospitality venue." Undoubtedly the perfect choice for such a landmark venue.
ENDS
 About Big River Group
Big River Group manufactures and distributes timber and steel formwork products, timber flooring, structural plywood and related timber products and distributes a broad range of other building products, primarily to the commercial and residential, non?residential and infrastructure construction market segments. The Company has a network of 10 sales and distribution centres across Australia and sources its products from both its own manufacturing facilities and also many Australian and international manufacturers of building products. The Company owns and operates manufacturing facilities at Grafton and Wagga Wagga in NSW.