Reinforced concrete is one of the most widely used building materials in Australia and recommended by many leading architects, engineers and builders across the country. Over the last few years, steel decks have become increasingly popular for the reinforcement of concrete slabs as they offer a number of benefits such as consistent quality, speed of construction, lightweight designs and considerable savings in material and labour costs.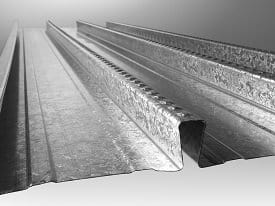 Part of Big River's wide range of formwork and building materials, Armourdeck steel decking was specially designed to provide a fast and cost-effective method for the creation of suspended concrete slabs. Engineered to act as a permanent formwork solution, Armourdeck requires minimal propping and no stripping of formwork, saving on concrete and reinforcement costs while reducing the amount of waste on site. Its composite action further improves efficiency by forming a highly robust composite slab, offering high levels of performance through its intrinsic strength, excellent spanning capabilities and minimal deflection.
An optional grey anti-glare water based coating, which is applied as part of the manufacturing process, is available to reduce reflected light, creating a more comfortable environment for installers and other tradespeople on site. Lighter than traditional formwork, Armourdeck can be easily handled and installed and is ideal for both concrete and steel frame construction in residential, commercial and industrial applications.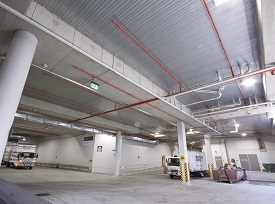 Pacific Fair Shopping Centre, Broadbeach, Queensland is a recent project in which Big River Armourdeck 300 was chosen, with 40000m2 of steel decking used to support the concrete floors of the underground car park structure and shopping centre. Also available in 600mm, the narrower width of 300mm Armourdeck was selected for ease of cutting, carrying and installing on site.  Armourdeck formwork is available in a range of base metal thicknesses (BMT) including the 1mm required on this project, as well as 0.60, 0.75 and 0.90mm and is manufactured from high-tensile (G550) quality Australian steel with a Z350 galvanised coating, in full compliance with AS1397.
The steel decking acts as a permanent formwork and requires minimal propping. Steel and concrete composite slabs are lighter and stronger than most conventional slabs. The steel decking provides tensile reinforcement, combining with the compressive strength of the concrete for an all-round stronger slab. Steel decking profiles are designed to prevent any longitudinal slip between the steel and concrete in the slab itself, and any transverse movement between the slab and supporting beams.
A composite slab effectively acts as a safe working platform. Once the slab is poured, following trades can be on-site below the slab almost immediately. At the same time, work can continue unhindered on the floors above, allowing simple installation of services. Cable trays, ductwork and service pipes can be suspended neatly underneath the slab with purpose designed clips, brackets and hangers that locate easily and quickly into recesses in the steel decking profile.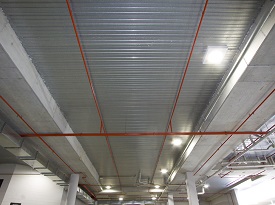 The geographical location of Pacific Fair, being near the ocean, meant there was risk of high corrosion which needed to be minimised. Big River use BlueScope Steel, supporting local steel makers, guaranteeing Australian standards are met, and in turn, ensuring integrity of product. BlueScope Z450 Deckform steel provided the client with confidence that there would be minimal, if any, corrosion issues inside the warrant period. Z450 Deckform steel delivers excellent durability and comes with a 15 year warranty and Z350 Deckform steel comes with a standard 10 year warranty.
Big River is well placed to meet the diverse needs of the market in terms of profiles and geographic location with its three roll forming lines, two at Grafton and the other at Wagga Wagga, NSW,
Big River Armourdeck has been used on a number of large scale commercial projects including Ikea Brisbane, QT Hotel Bondi Beach,  St George Hospital Kogarah, Westmead Hospital Car Park, Bunnings Caringbah, and Westfield Warringah Mall.
Big River Group is a wholly Australian owned and operated company. To download a brochure or for more information on Big River's steel formwork visit www.bigrivergroup.com.au
About Big River Group
Big River Group manufactures and distributes timber and steel formwork products, timber flooring, structural plywood and related timber products and distributes a broad range of other building products, primarily to the commercial and residential, non?residential and infrastructure construction market segments.
The Company has a network of 10 sales and distribution centres across Australia and sources its products from both its own manufacturing facilities and also many Australian and international manufacturers of building products. The Company owns and operates manufacturing facilities at Grafton and Wagga Wagga in NSW.