Aesop Store, Burnside Village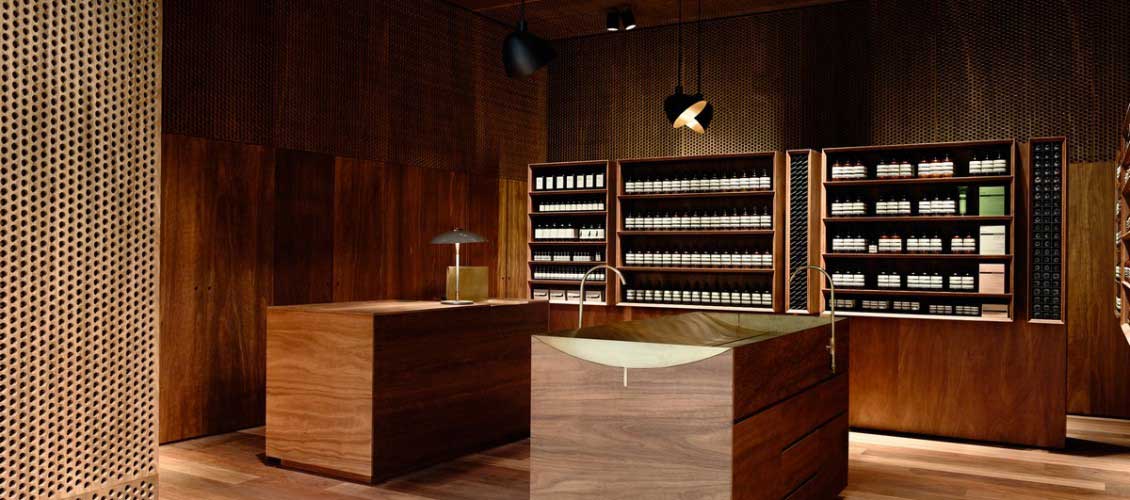 Aesop Store, Burnside Village SA
When visiting the Aesop store in Burnside Village the first thing that strikes you is the distinctive perforated timber panelling. This signature material is Big River's ArmourPanel in Blackbutt, selected by Kerstin Thompson Architects for its "materiality and versatility." The hue of the timber creates a rich, robust and inviting interior.
This warm environment complements the Aesop products that line the shelves perfectly, providing a slight offset to the amber containers of premium skin, hair and body products. ArmourPanel is both attractive and acoustically practical, important features for any retailer. Additionally, its versatility means it can "feature in a multitude of uses: perforated screening, shelving, countertops, wall lining and flooring."
The expressive grain of the Blackbutt ply is not only gorgeous and intimate, it is incredibly durable. This makes it tolerant to wear, which is especially useful in the heavy foot traffic environment of a retail outlet.
Big River Products Used
ArmourPanel Blackbutt
To discover the versatility, durability and beauty of Big River's range of decorative plywood, enquire online today. ArmourPanel is perfect for any application requiring strength, durability and stability without sacrificing on style.