Elanora Aged Care facilities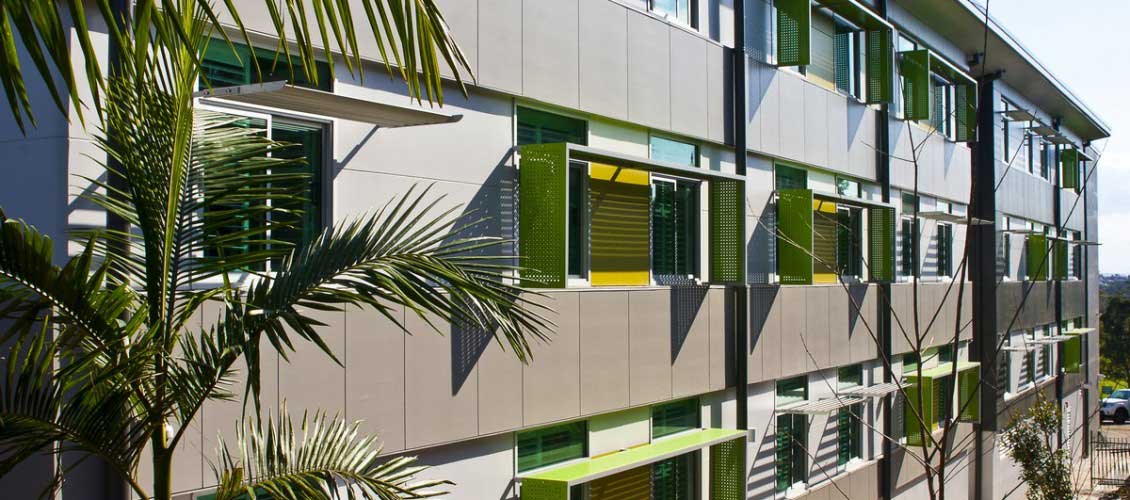 Elanora Uniting Care Aged Care Facility, Shellharbour
This stylish and spacious aged care facility is fully equipped with all the amenities and modern conveniences residents, staff and visitors need. Elanora is home to up to 100 residents, offering comfort, companionship and convenience.
The project was designed with environmental sustainability in mind. By using external James Hardie Matrix fibre cement cladding it was possible to create a sleek contemporary finish with optimal thermal mass and energy efficiency. Alongside this, Big River also supplied formwork and several other building materials (such as Truform LVL, timber mouldings and structural plywood) customised for the project.
Project Details:
Architect: Calder Flower Architects Pty Ltd
Construction Management: Grindley Construction
Building Type: Aged Care Accommodation
Unit Count: 100 rooms
Amenities: Low and high level permanent and respite care; common neighbourhood spaces including lounge areas, dining and activity rooms and guest visiting areas; a café, hair salon and library
Project Inclusions: Private single bedrooms include ensuite; solar power panels to provide up to 50% of the building's energy needs; rain water capture and tanks used to flush toilets and irrigate gardens
Storeys: 3

Big River Products Used
Scyon Matrix Fibre Cement Cladding | Finger Jointed Architrave | Custom Internal Finger Jointed Pine Skirting | Custom Victorian Ash Handrail | Armourform Formply | Truform LVL
Contact Big River, building material manufacturers, suppliers and experts, about our range of manufactured and sourced materials. We are happy to discuss the requirements of your project and determine which of our stock is suitable for your needs. Get in touch online today.