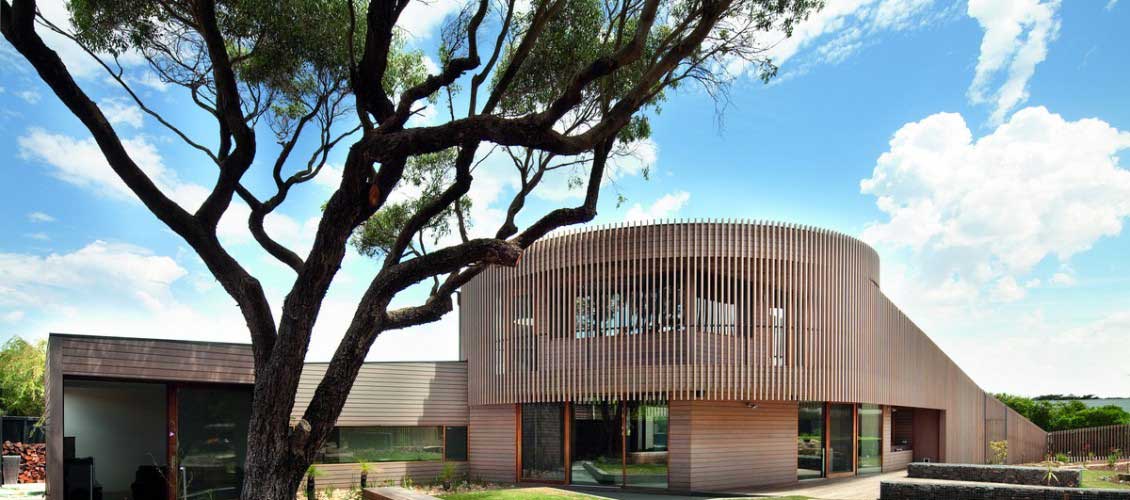 Henley Street Residence, Barwon Heads
After decades as a fishing town, Barwon Heads has seen regrowth in recent years. For this project the traditional timber materials of coastal towns across Australia were reimagined in an eco-friendly and stylistic way. Designed by Jon Clements from Jackson Clement Burrows, this home features a slatted timber exterior that invokes the past, but reinvigorates it for modern tastes. The result is a curved design that suits the surrounding landscape, while also providing privacy, sun and wind protection.
The interior uses Big River Armourfloor Spotted Gum manufactured from renewable timber sources, which is in keeping with the overall eco-friendly design. The boards were delivered raw, then sanded and treated onsite to create a traditional, polished style of flooring. Amourfloor Spotted Gum was selected as the timber flooring solution for 3 key reasons:
Stability – The 5 ply laminated cross structure has unique width, allowing it to be installed without face fixings.
Thermal Resilience – The home's underground heating required a flooring system that would not deform in the presence of heat.
Resistance to shrinkage – Warmth from the heating system and the sun required timber that is hard wearing and resistant to moisture loss. ArmourFloor is resistant to heat induced shrinkage and any resulting cracking or warping.
Project Details:
Architect: NKT Architecture Pty Ltd
Construction Management: Grindley Construction
Building Type: Community accommodation
Unit count: 10 x 1 bedroom units and 4 x 2 bedroom units
Floor count: Combination of 1 and 2 level dwellings
Inclusions: Separate amenities and outdoor areas with grassed, landscaped and paved areas; 8 Car Parking spaces
Big River Products Used
ArmourFloor Spotted Gum | Timber Flooring
To find out more about Big River's range of Armourfloor, the different timber species available or our other timber flooring options, contact us today. We can provide an obligation free quote on a high quality and suitable option for your build.