Transportable Units for Apartment Tower, Moonee Ponds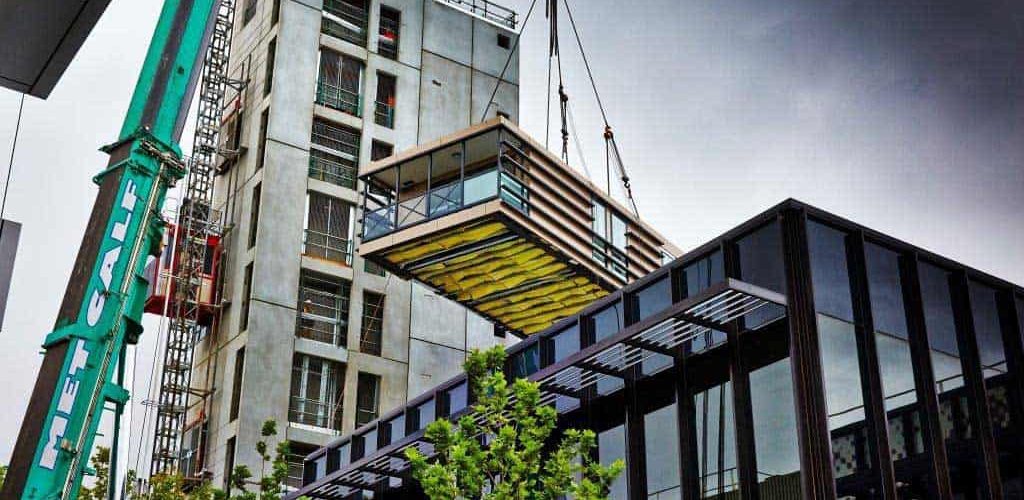 ONE9 Hall St Apartment Tower, Moonee Ponds
This sophisticated 9 storey apartment tower, complete with 34 units each using 20 sheets of Big River structural plywood flooring, took an astounding 5 days to complete. Located in the heart of Moonee Ponds it offers a vibrant lifestyle, mere minutes from Melbourne's many sights and amenities. The eco-friendly design features clean, contemporary lines and high-grade interiors using high quality materials.
The construction process involved an advanced assembly line approach championed by the Hickory Group, known as the Unitized Building (UB) System. To complete the project within the timeframe the build was divided into distinct segments. Each was manufactured in a quality controlled factory environment, transported to the site and then craned into position. It was completed in full compliance with AS2269 and Building Code of Australia. Our structural plywood provided the flexibility and performance necessary to complete the project on time and budget.
Project Details:
Architect: Nonda Katsalidis' Unitised Building ("UB") System
Construction Management: Vaughan Constructions
Builder: Hickory Group
Cost: $4.5m
Building Type: Residential apartments with 6 star energy rating
Storeys: 9 levels
Unit Count: 34 total apartments, split between one and two bedrooms
Project Inclusions: Tiled balconies, split system units, kitchenettes installed complete with final plumbing and electrical services, double glazed windows for thermal and acoustic performance.
Amenities: Rooftop garden with BBQ, comfortable furnishings and lush greenery; grey water recycling, and solar hot water panels on the roof.

Big River Products Used
38mm thick H2 treated CD structural plywood flooring
If you're looking for a dependable range of structural plywood that is fabricated, treated and supplied to a consistently high standard, then get in touch with us. At Big River we are proud of our timber products and are happy to find the variety suitable to your project.