Flooring has a huge visual impact and can immediately set the tone of a space. Selecting a timber floor is a classic choice, its natural beauty will add warmth and depth to a home, enhancing the lifetime of family memories it will no doubt endure. Choosing from Australia's unique resource of native hardwoods Big River Group, Australia's timber flooring expert, has launched a new generation engineered Australian hardwood flooring range to the market.
The range comes with the quality and assurance that Big River has been renowned for since introducing its market leading Armourfloor engineered hardwood flooring in 1998. With its unique construction of five layers of Australian eucalypt hardwood veneer Big River's Armourfloor quickly established a reputation for being 'Australia's most stable floor' and is the only engineered flooring still manufactured in Australia today.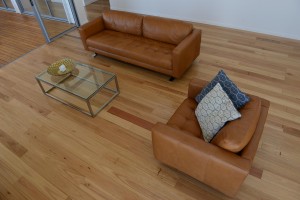 The newly developed engineered flooring construction is an attractive solution for builders, architects and homeowners who are seeking the stability of Big River's esteemed Armourfloor product in a more economical design. Beneath a thick top layer of Australian hardwood is an engineered eucalyptus plywood core. The hardwood eucalyptus core means that optimum stability is guaranteed between the floorboards with reduced risk of bending and cupping.
The unique beauty of native timbers is preserved in a heavy-duty face veneer, which consists of a 4mm layer of genuine Australian hardwood. The dense veneer is sawn rather than peeled providing the appearance of solid timber flooring. The veneer has a highly protective UV cured coating, which means the floor will remain fresh in appearance and should not need to be sanded back for many years. Additionally Big River's pre-finished engineered flooring comes with a 20 year limited warranty against wear-through under normal residential usage, leaving it well prepared to survive day to day family living.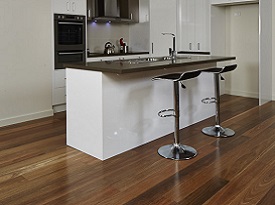 Big River Engineered Australian Hardwood Flooring allows for fast, simple and economical installation through its tongue and groove connecting system. The boards can be installed on virtually any flat surface including concrete, tiles and existing timber floors.
Australia is well known for producing some of the most attractive timbers in the world. Big River Engineered Australian Hardwood Flooring is available in six Australian hardwood timber species: Tasmanian Oak, Australian Chestnut, Blackbutt, Spotted Gum, and Brushbox.
| | | | | | |
| --- | --- | --- | --- | --- | --- |
| Tasmanian Oak | Australian Chestnut | Blackbutt | Spotted Gum | Sydney Blue Gum | Brushbox |
Big River's prefinished product is sanded, coated and sealed in the factory, but for those who have specific staining and finishing requirements Big River's existing Armourfloor raw is also available which can be coated onsite.
All Big River engineered flooring is milled from managed regrowth and plantation forest hardwoods. Big River hardwood is Australian Forestry Standard (AFS) certified. Big River's pre-finished engineered flooring comes with a lifetime warranty against warping, buckling or bond failure and a 20 year limited warranty for the finish against wear-through under normal residential usage.
To download a brochure or for more information on Big River's engineered and broader range of flooring please visit http://bigrivergroup.com.au/product/engineered-timber-prefinished/
Specifications:
Board Dimensions – 2200mm x 133mm x 15mm
Substrate – Engineered Plywood Core
Joining System – Tongue & Groove
Face Veneer – 4mm Australian Hardwood Veneer
Finish – UV Cured Coating
Colours – Tasmanian Oak, Australian Chestnut, Blackbutt, Spotted Gum, and Brushbox
About Big River timber flooring
With over 110 years in the timber industry, Big River is now one of NSW largest private timber manufacturing and marketing businesses, servicing all Australian States and many international projects.
Involved in the Australian timber industry since the early 1900?s, Big River adds more value per cubic metre of log throughput than any other operation in the NSW hardwood industry. Big River's range of timber flooring includes decorative timber products combining the aesthetic value of hardwood timbers with the structural qualities of an engineered product.
# ENDS #